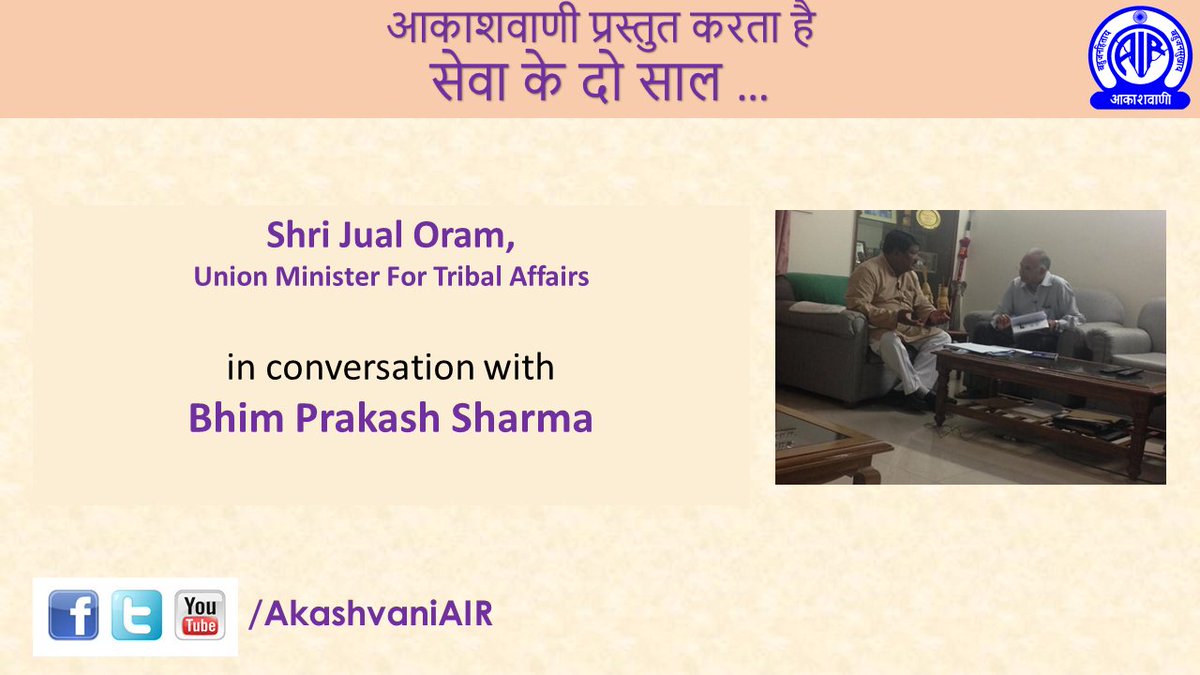 As the NDA government celebrates two years of Governance later this month, All India Radio is chronicling their work through special series
#SewaKeDoSaal
.
Today on 23 May 2016, we dissected the work of Tribal Affairs Ministry and brought in our courtroom Shri Jual Oram, Union Minister for Tribal Affairs, interviewed by AIR Programme Executive Shri Bhim Prakash Sharma
Jual Oram started the session on a positive note and
emphasized
"Education is the ultimate way to bring the tribal population into the mainstream". In his short and crisp interview, he eloquently spoke over matters related with the development of
Tribal
in India
·
With proper encouragement and guidance, students of tribal origin have come at par with general category students and a good percentage have enrolled for Engineering and Medical fields.
·
State Governments are running hostels and Jawahar Navodaya Schools to encourage students for education.
·
Employment is another arena which is properly addressed. With organisation named Tribal Co-operative Marketing Development Federation of India Ltd (TRIFED), proper help is provided as people gain Minimum Support Price (MSP).
·
Various vocational training programmes have been started to infuse confidence and make them understand the market demands.
·
Proper platform is provided to promote their arts, crafts and produce of the farmers in cities.
·
Besides Mobile Dispensaries and Medical Vans, there are voluntary organisations as Ram Krishna Mission, Bharati Sevashram and Vanvasi Kalyanshram.
·
Some common ailments like anaemia, malaria and other diseases are systematically addressed with our tie ups with the Ministry of Health and several other pharmaceutical organisations.
·
Regional workshops and seminars are encouraged by the Ministry in order to infuse in the minds of the tribals, a deeper understanding and awareness about the importance of education.
·
We are doing every possible effort to encourage the players, special hostel facilities and other assistance is given to them so as to encourage both traditional and mainstream games.
·
The tribal population have largely benefited with the Pradhanmantri Jan Dhan Yojna. For better coordination we have established Tribal Advisory Committee in order to maintain better coordination with the other ministries.
·
Akashvani has been of greater help throughout the process, as it has a wider reach and deeper penetration and assists us to broadcast awareness and educational initiatives.
At the end the Minister leaves with the message that how Prime Minister Narendra Modi ji is working towards inclusion, and that's possible only when we work together and act together, so now it's time for us to work towards rural and tribal development and empowerment and further help built a better India for its tribal population and other citizens as well.
You can listen to the complete interview on the below mentioned link:
https://www.youtube.com/watch?v=Hk8UZnhQ80o&feature=youtu.be&a